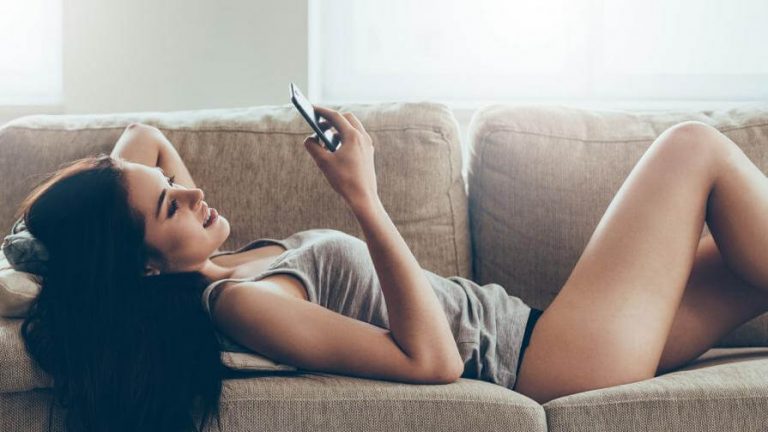 Pleasure in your pocket
Look around you. I'm sure it's not a fanciful notion to suggest there's a mobile phone within easy reach? Possibly some other smart device such as an iPad? These are all you require to enter the heady world of sexting, a unique method of getting your partner(s) hot under the collar. And the only requirements are a degree of trust and a fertile imagination.
Perhaps you've never considered sexting before? After all, it certainly comes with baggage. This is one subject guaranteed to create tabloid splashes whenever some celeb has been named and shamed for having been caught sending explicit messages. Like a grotesquely overblown version of the bitchy email mistakenly sent to the person under discussion, or an expletive-laden rant somehow addressed to your boss, sexting can be fraught with danger. But don't fret. With a modicum of common sense this form of erotic communication can become a wonderful tool that will reap immense dividends.
Phone foreplay
You should regard sexting as being every bit as important to your sex life as the real thing. This might seem like stretching it a bit but think about what you're doing when you send a steamy text.
• You're committing yourself to something really explicit. This sends out a powerful message to whoever is on the receiving end, one that will leave them in no doubt about how you feel about them.
• In the earlier stages of a relationship you might not be confident enough to broach certain fantasies. But your thumbs and fingers can certainly do the talking for you.
• Your imagination can really run wild. Sexting allows you to develop your sexual repertoire. Discuss the things you'd love to do, especially if you can conjure scenarios or positions you've never explored before. When you meet up in the real world you'll already be well beyond first base. Third actually.
Note of caution
Sexting does come with a caveat. Consider just how close you are to the individual you're about to send your suggestive message to. Some people are willing to sext casual acquaintances because they involve that same degree of spontaneity. Sexting has connotations of being on a par with talking dirty, and doing this to a relative stranger can be a huge turn on.
So ask yourself how damaging it could be if your relationship turned sour. Once a sext message is out there it can't be retrieved. It can be shared. These are dangerous waters if pictures of body parts were involved. This is where a degree of trust needs to come in. But just like any partnership in the real world, you'll soon appreciate how sincere your partner is. If you are going to take selfies of your secret places it's easy enough to ensure no other identifying features are included. Your erotically charged messages must always be guarded by privacy, and for her/his eyes only.